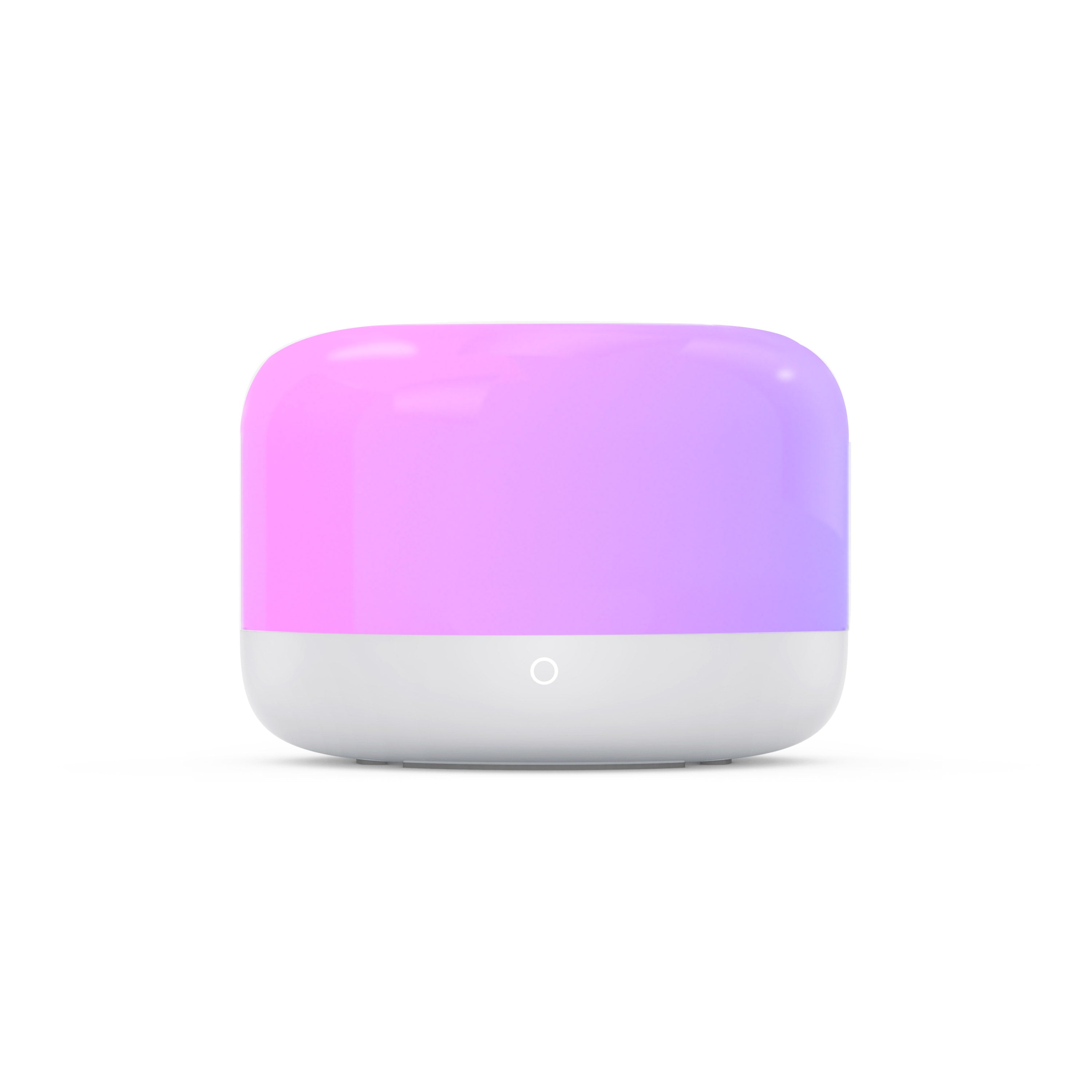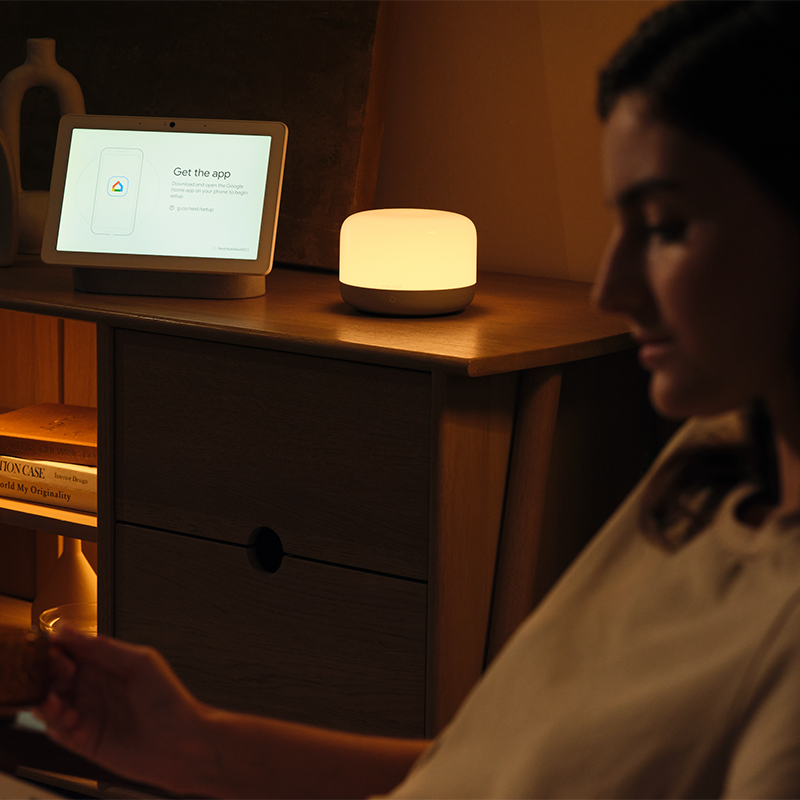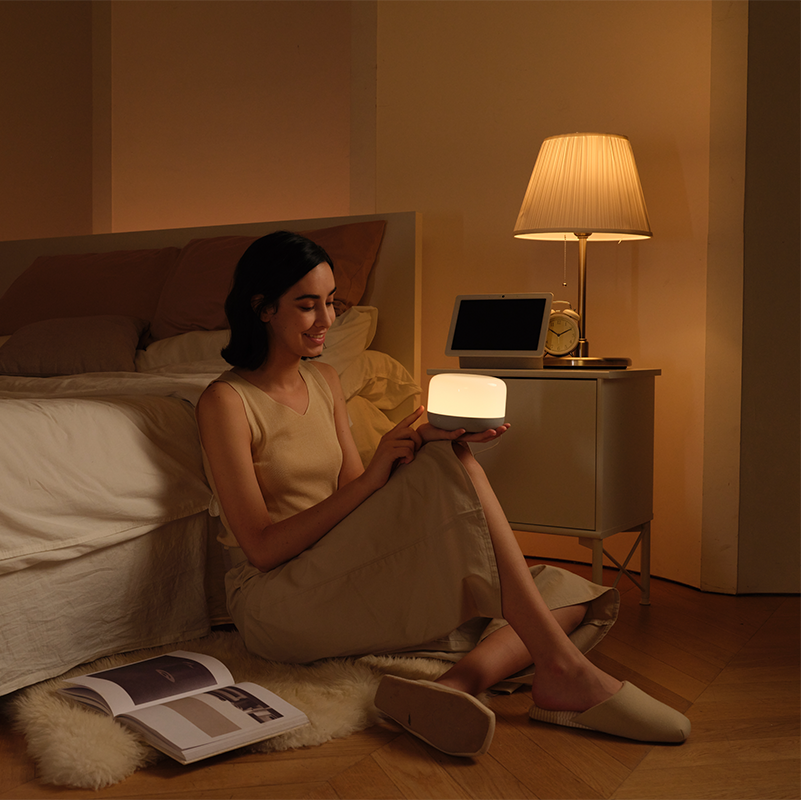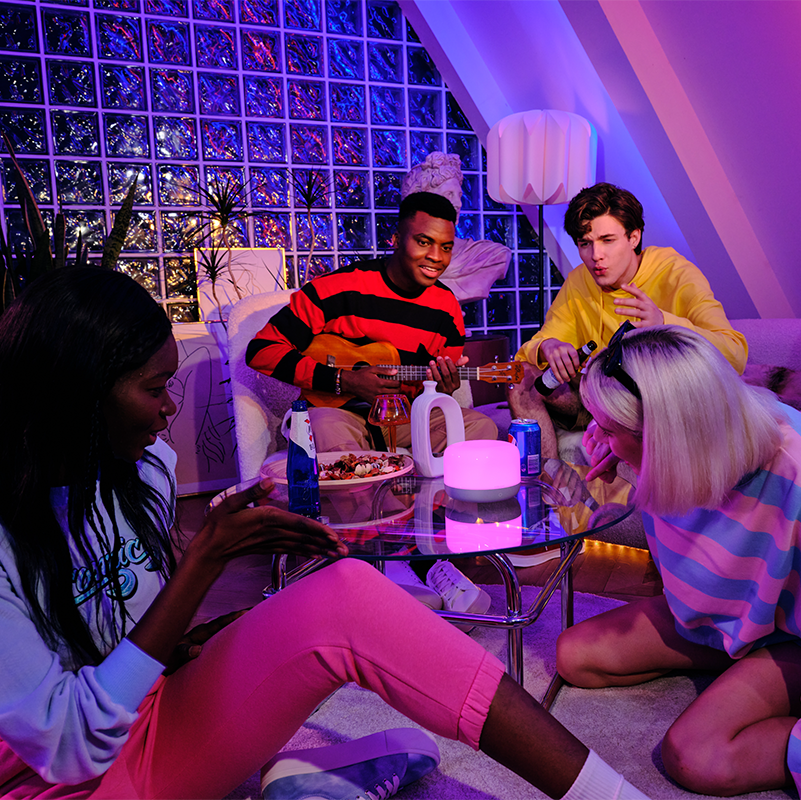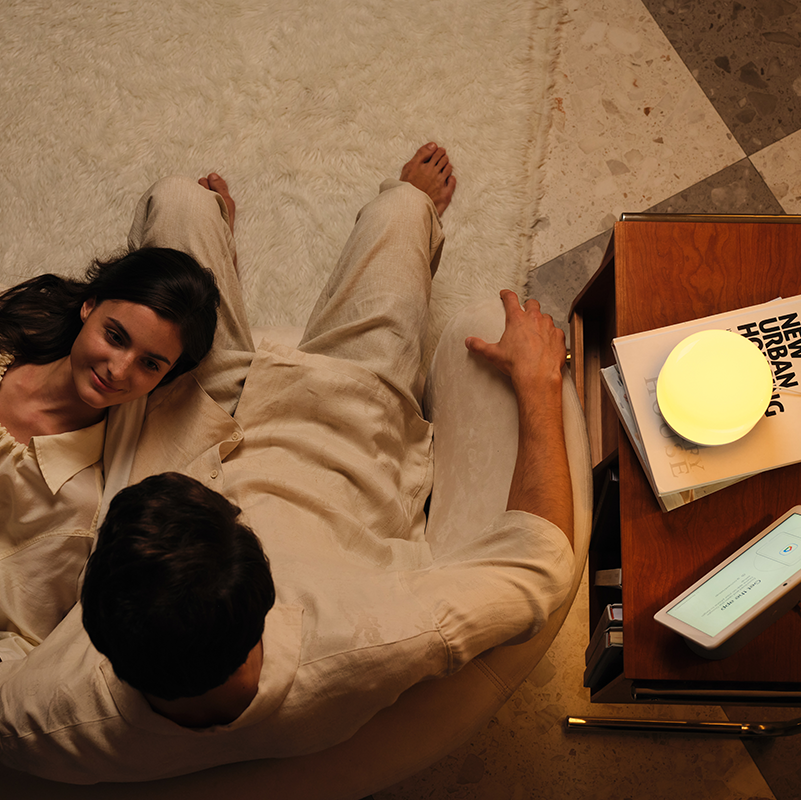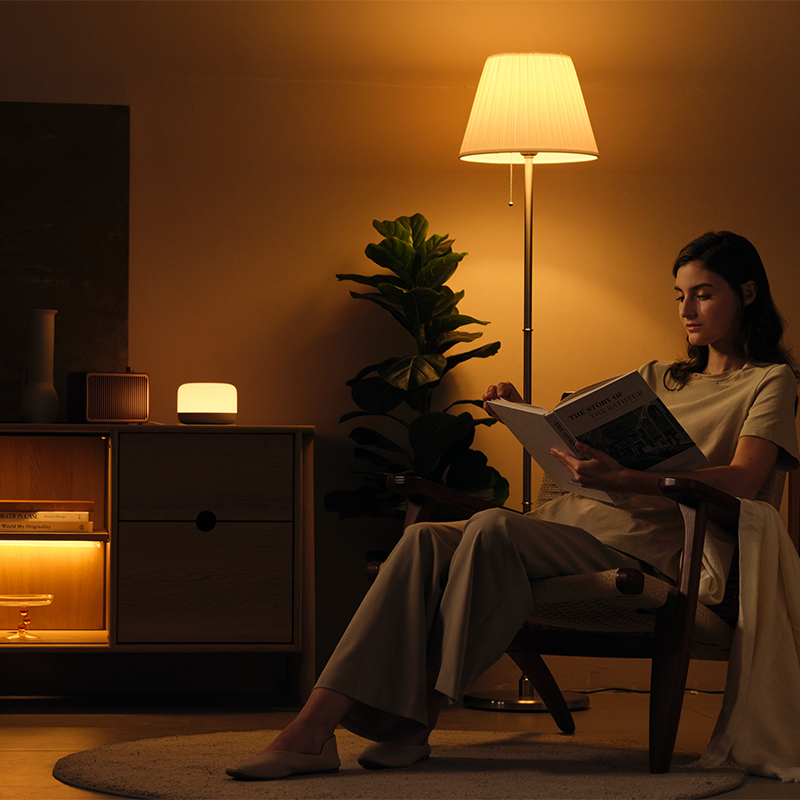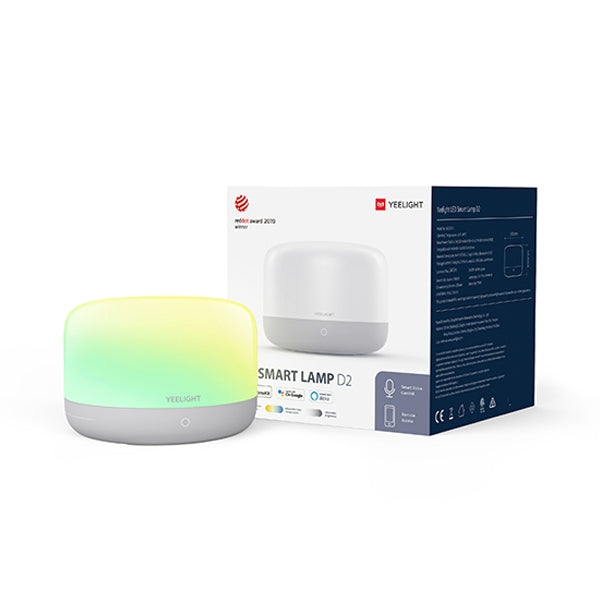 Yeelight Smart LED Lamp D2
On/Off with Double Tap
16 Million Colors
Dimmable and Adjustable Color Temperature
Voice Control supported by Apple Homekit, Google Assistant, Amazon Alexa
App Control
Shine with Rhyme with Music Sync
Flowing Color Mode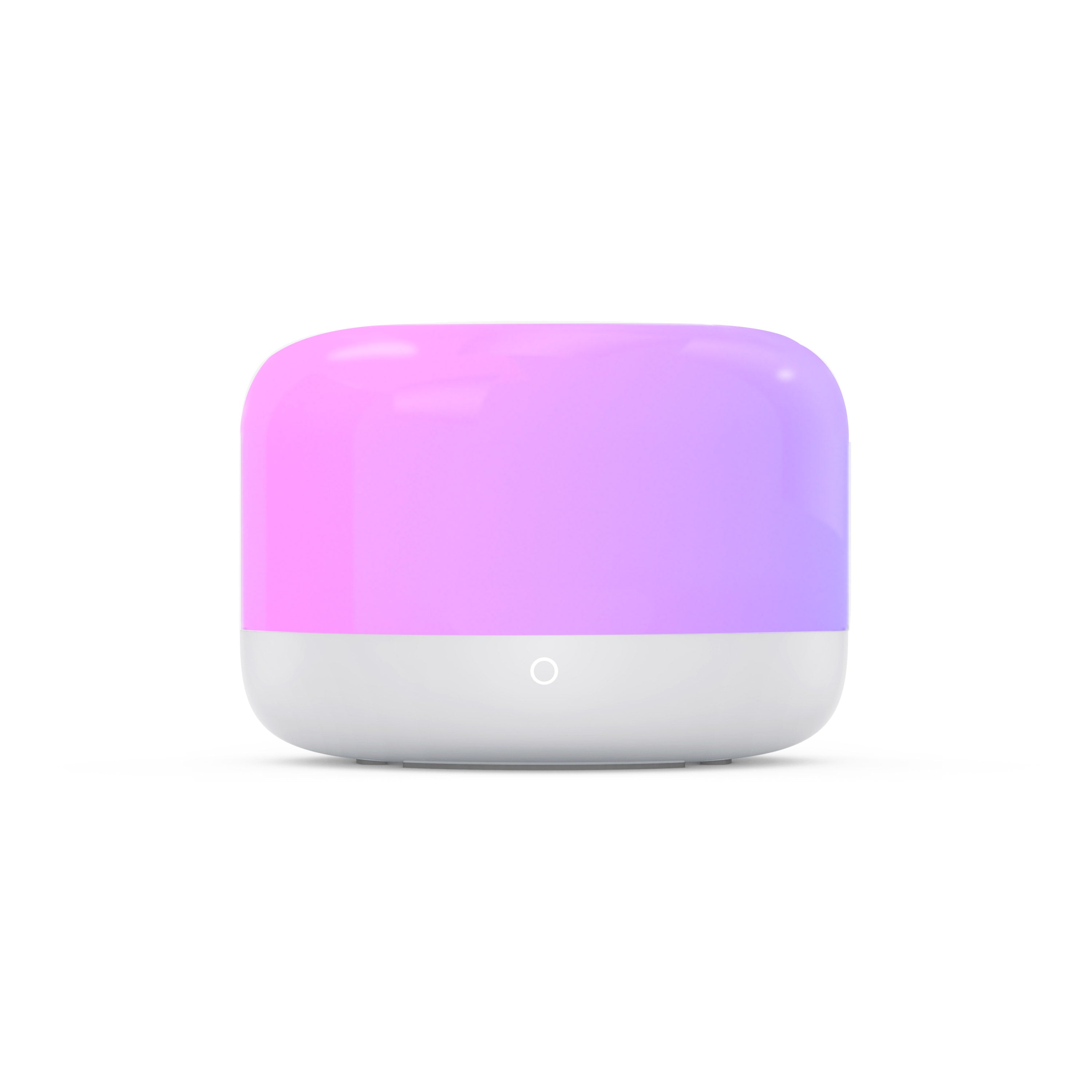 Name
Yeelight LED Smart Lamp D2
Model No.
140 mm (diameter) x 100 mm (height)
Rated power:
5W (6×1W/LED module (W) + 6×0.5W/LED module (RGB))
Wireless Connection:
Wi-Fi iEEE 802.11b/g/n 2.4GHz and Bluetooth 4.2 BLE
Supported Operating Systems:
Android 4.4 or iOS 9.0 and later
What sets the Smart LED Lamp D2 apart from other bedside table lamps?

The Smart LED Lamp D2 is not just any bedside table lamp. It boasts the ability to reproduce over 16 million colors, offers smart home integration, and can be intuitively controlled through the Yeelight APP, making it a versatile and modern addition to any room.
How does the touch functionality work in this touch bedside lamp?

The Smart LED Lamp D2 features a user-friendly touch interface. With a simple touch, users can easily adjust brightness levels, change colors, or switch between different modes. This touch functionality ensures a seamless interaction without needing to always rely on the app.
Is the design of the Smart LED Lamp D2 suitable for contemporary interiors?

Absolutely! The Smart LED Lamp D2 is designed as a modern bedside lamp with a sleek and minimalist aesthetic. Its elegant design allows it to seamlessly blend into and elevate any contemporary bedroom or living space.
With so many features, is the Smart LED Lamp D2 still easy to use for someone looking for a cool bedside lamp?

Yes, while the Smart LED Lamp D2 is packed with features, it's incredibly user-friendly. Whether you're adjusting its vast spectrum of colors, using the touch controls, or integrating it into your smart home setup, the D2 is designed to offer a 'cool' and intuitive lighting experience without a steep learning curve.
How does the Smart LED Lamp D2 compare to other smart bedside lamps on the market?

The Smart LED Lamp D2 stands out among smart bedside lamps due to its unparalleled range of colors, energy efficiency, smart connectivity options, and intuitive touch controls. Whether you're looking to create the perfect ambiance, integrate it into your smart home ecosystem, or simply enjoy the modern aesthetics, the D2 offers a comprehensive package that meets and exceeds expectations.
Currently, we ship to the following countries:

North America: United States, Canada and Mexico. (Except for remote areas such as Alaska and Hawaii; overseas addresses such as Puerto Rico and Guam; APO/FPO military addresses.)
Europe: Austria, Belgium, Bulgaria, Czech Republic, Denmark(Except for the Faroe Islands, Greenland), Finland, France(Except for the Overseas territories and departments), Germany, Greece, Hungary, Ireland, Italy (Except for the Livigno and Campione d'Italia), Netherlands(Except for the Overseas territories), Norway, Poland, Portugal, Romania, Spain(Except for the Ceuta/Melilla, Canary Islands), Sweden, Switzerland, Turkey, and the United Kingdom(Except for the British Indian Ocean Territory, British Virgin Islands, etc.).
How long will it take to get my orders?

It depends on where you are. Orders processed here will take 5-7 business days to arrive. Overseas deliveries can take anywhere from 7-16 days. Delivery details will be provided in your confirmation email.
You can contact us through our contact page! We will be happy to assist you.
Our customer support is available Monday to Friday: 9am-5:30pm.
Average answer time: 24h